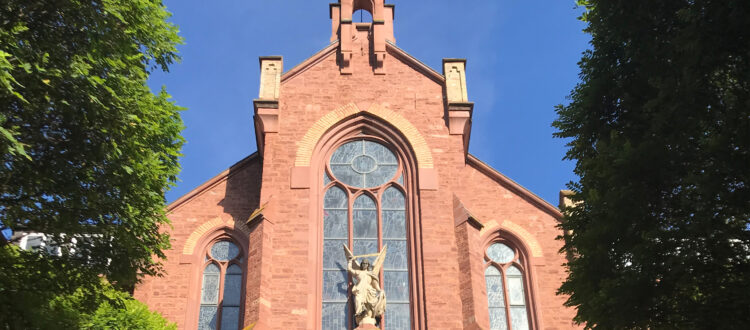 The Bishop – hotel and complex
The Bishop – Hotel and area in Tauberbischofsheim
REPORT OF THE FRANKISH NEWS
from Saturday 25 January 2021
A green, urban district is to be created around the former St. Michael educational center – and a modern hotel. In the long term, around 50 million euros are to be invested.
Tauberbischofsheim. "It's still a vision, but I'm in good spirits that it will become reality," says Tobias Motz in an interview with the Fränkische Nachrichten. "Tauberbischofsheim not only needs a hotel, it also deserves it." The restaurateur knows what he is talking about. After all, he already successfully runs three hotels, the Edelfinger Hof in Edelfingen and the Alte Münze and the Miya in Bad Mergentheim. He is in good spirits that his ideas can be realized: "I am in very good contact with Mayor Anette Schmidt and the city councilors and feel that my plans are in very good hands." A first presentation has already taken place in the municipal council.
In the meantime, renovations are progressing in parallel at the former Hotel Bildungshaus St. Michael, and the hotelier is therefore optimistic about the near future: "The city of Tauberbischofsheim will have a new hotel from autumn, and it will be called 'Das Bischof'." The hotel will not only expand the city's gastronomic offer, but will also create jobs. "We will employ around 25 people full-time or part-time."
​The renovation will create 56 rooms, for example by converting former offices or a large hall on the top floor. "This is how we achieve optimal use," says Motz. The meeting and event rooms will vary in size with a capacity of up to 200 people.
While nothing may be changed on the outside of the building, the listed building will be given a completely new interior. This is to create a special atmosphere. Tobias Motz: "Together with my architect from Masswerk 5 from Bad Mergentheim, I decided on an industrial look." Old-fashioned on the outside, modern on the inside. The hotelier spends a lot of money on this. "Around two million euros will go into the renovation," he says, quantifying his investments. But not only the quality of stay factor, also very pragmatic factors ensure the high sum, primarily fire protection.
"The chapel on the site will be deprofaned so that it can be used as an event or conference room in the future, including for family celebrations such as weddings," explains Motz. "Of course, it can also be used by the future operator of the à la carte restaurant. And I am particularly pleased that I have found well-known and renowned operators in Tauberbischofsheim: Francesco and Rocco Carella."
​" We've been looking for a different location in Tauberbischofsheim that is better suited to our needs for quite some time and have now found it in the former educational center," says Francesco Carella. "We will give up our current restaurant in the sports park in the summer and move completely." He and his brother see great development potential in the new restaurant. Both gastronomic and culinary ideas could be implemented in the new restaurant, such as a show kitchen. "We don't want to reveal more just yet, but there will be a few surprises for our guests," says Francesco Carella.
What is certain is that there will be between 80 and 90 seats in the new restaurant and that there will also be some adjoining rooms available for conferences and family celebrations. For Francesco Carella, the gastronomic circle has come full circle. Around 20 years ago he learned his trade from the Motz family in the Edelfinger Hof. That's why he and Tobias Motz are happy that they have found each other again after many years.
However , the establishment of a hotel in the district town is only a first step in realizing Tobias Motz's vision. After all, he not only bought the building from the Archdiocese of Freiburg, but a huge area. "I imagine that a green, urban quarter will develop around the St. Michael building, a kind of green lung for the city. The goal is a Tauberpark consisting of residential and commercial areas." Ultimately, there is an investment volume of around 50 million euros. "While the hotel is managed by me alone, other investors are of course involved in the Tauberpark," the hotelier states.
Motz has the idea of building a multi-generational park on an area of 25,000 square meters with residential units of different sizes, from single to multi-family houses, from senior-friendly apartments to young people's homes. Depending on demand, around 100 residential units are to be built in total. Motz: "We will orientate ourselves here according to the wishes of future users." In addition, a business complex with an area of around 2000 square meters is to be built.
"However, we don't want to compete with the shops in the city center, but see ourselves as a supplement to the existing stock," Motz makes it clear that he doesn't want to create a competitive situation. "People should stay with us and feel comfortable, but also use what the city center has to offer. I think that we, as well as the pedestrian zone, will benefit from the hotel's proximity to the city." He assumes an ideal symbiosis that will allow both the old trunk and the new branch to thrive. Good cooperation is important to him, he emphasizes.
​Cars are not allowed in the green district. They are to disappear from the surface in an underground car park with 250 parking spaces. Motor vehicles should not be parked on the site. Putting that kind of money into your hands requires a good business plan or a good field survey. "There are indeed already interested parties and there is good demand," says Motz. "The need is definitely there." However, nothing is ready to say yet.
In view of Corona, don't you have a stomach ache to make such an investment? "If not now, when," says Tobias Motz. "The hotels are currently empty, the construction noise doesn't bother anyone, especially not our guests. It is also important to act anti-cyclically and to be able to present a good offer in time for the end of the crisis." That is why he is also renovating and expanding the hotel in Edelfingen for 1.5 million euros.